This 'sweet and sour' news is already some time overdue. You might already know how a typical geographical distribution of ERC grants looks like. The next figure shows to which countries Consolidator grants went in 2017.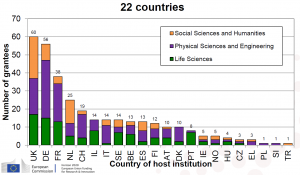 This distribution is usually typical for Poland, i.e., apx. 1 grant is given. This in general is rather 'sour' news. Still a 'sweet' information is that this was yet another grant in algorithms that went to our group in Warsaw. Hence, we currently have three ERC grants running:
1. Marcin Pilipczuk got ERC Starting Grant CUTACOMBS - Cuts and decompositions: algorithms and combinatorial properties,
2. Marek Cygan got ERC Starting Grant TOTAL - Technology transfer between modern algorithmic paradigms,
3. I, myself, got ERC Consolidator Grant TUGboAT - Towards Unification of Algorithmic Tools.
In other words, there are some interesting project happening right in Warsaw, and if you would like to visit us, just let us know.